Family and domestic violence is  a horrific reality, frequently hidden behind the four walls of our homes.  The Australian Institute for Health & Welfare, recently released the latest data on family & domestic violence (FDV). Three things stood out to me.
1. FDV  is stubbornly resistant to change
The public education campaigns that have run over the last few years have successfully highlighted the issue and seen an upswing in people seeking assistance to leave a violent relationship. Yet the incidence of domestic violence is not diminishing. The Australian Bureau of Statistics Personal Safety Survey was released in 2006, 2011, and 2016. During that time the proportion of women who had experienced violence in their homes during the 12 months prior to the survey grew from 1.5% to 1.7%. For men the rise was from 0.4% to 0.8%.
2. Men aged 20-40 account for 3/5 of all FDV proceedings

The report notes that violence permissive attitudes are higher among 16-24 year old males than any other group. Half this cohort thought it was acceptable to track a partner by electronic means without her consent; 2/5 of the cohort did not see attempts to control a partner by denying her money, nor continual criticism of a partner with the goal of making her feel bad and worthless, as abuse; and 1/4 did notes attempts to control a partner's social life as abuse.
I suspect this requires men, myself included, to cultivate a respectful, gentle masculinity, to teach and model it in our homes, churches and community groups, and to take a stand when we see people attempting to control others.
3. Most women who are abused will turn to a friend for help.
Close to 70% of women who experience abuse and seek support will seek it from a  friend or family member. This makes it vital that we know what to do and say.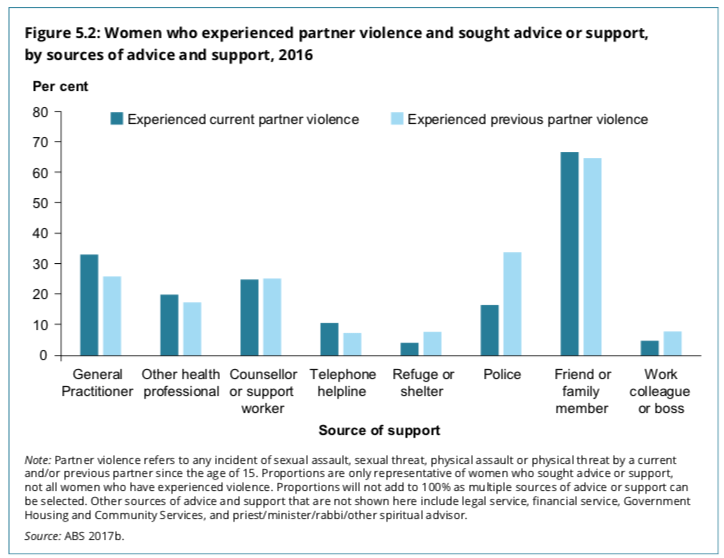 Here's my quick guide, based on material I've read and discussion I've had:
Listen…listen…listen
Communicate that you believe what you're being told.
Ask them if they feel safe going home, and if they do not then work with them to find safe place to stay.
Volunteer to go with them to seek assistance from people with the professional skills to help (eg a local domestic violence service centre, or a cal to a family and domestic violence hotline).
Maintain confidence