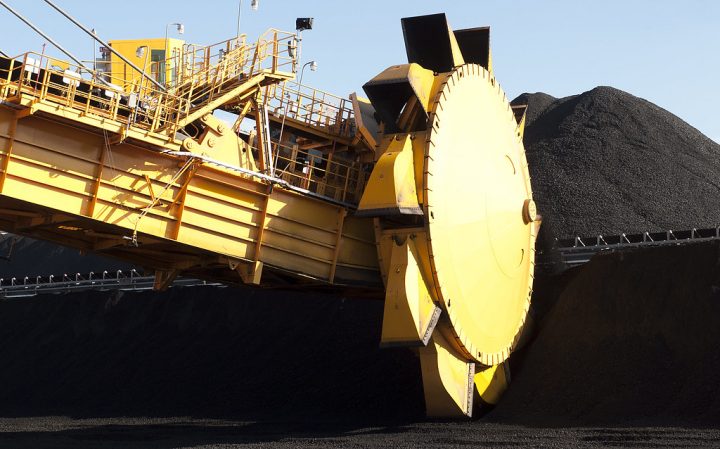 When Sandy and I moved to Newcastle 25 years ago we discovered a city and region with layers of beauty familiar to communities located along Australia's eastern coastline, yet pockmarked by industrialised sites that possessed the bleak and foreboding feel of a post-apocalyptic world. Alongside glorious beaches, beautiful open spaces, a spectacular lake, and the vineyards and horse studs of the Hunter Valley, Newcastle has the industrial remnants of its steel city past and its coal city present. Incredibly long trains carrying mounds of the black rock snake through the countryside, transporting their cargo to the world's largest thermal coal export port. Giant machines effortlessly scoop coal into their buckets and dump it onto oversize conveyor belts. Ships dot the coastline waiting to take on their load and conquer raging seas to carry coal across the world. Even Nobby's headland bears the marks of coal, for its distinctive flat top was created after it's hilltop was dynamited off to make the harbour accessible to the sailing ships that carried our coal in a century past.
These industrial elements might be regarded as ugly scars, but over the years I have come to appreciate that many are in their own way formidable and awe-inspiring. It is quite an experience to sense the power of one of those coal trains that seem to reach on forever as the rail station platform rumbles from its passing, or to sit at a Harbourside cafe and watch the massive bulk of a coal ship guided in by tugs pass almost close enough to reach out and touch it.
The city – it's nature, the character of its culture, and it's beauty – was forged in mines and smelters and the working harbour as much as the beaches and cafes and vineyards. Our working class industrial heritage gave rise to a hard-working, practical, straight-spoken culture; a thriving arts community, in which writing, music, painting, dance and drama are so often anchored in industrial settings; and a sense of pride that leaves so many of us convinced that there's nowhere else you'd rather live.
This is why the imminent end of the coal industry is not only an ecological issue for us. Nor is it only economic. It is about the very character and shape of the place in which we live.
Yet end it must and it will. The era of coal, gas and oil is coming to an end.
The burning of coal is one of the chief sources of greenhouse gas emissions that are driving global warming. The global mean temperature is already 1 degree higher than pre-industrial times and our current trajectory is toward a world where warming exceeds 3 degrees. To have a reasonable chance of holding it to 1.5 degrees, coal-fired power is one of the things that must go by 2050 at the latest 1IPCC, 2018, Special Report: Global Warming of 1.5. Figures apply to modelled pathways involving no or limited overshoot. Should the world fail to do so, the demand for Newcastle's coal may endure a little longer, but as communities experience the intensifying and dangerous impacts of a changing climate the pressure to reduce emissions will only become more intense and the end of coal will remain inevitable.
Australia's Domestic Coal Market
Australia produces two types of coal: thermal coal, which is used to produce electricity; and metallurgical coal , which used to make steel. We export around 70 percent of our thermal coal and almost 100 percent of our metallurgical coal. The thermal coal we keep is used to generate electricity and was historically our cheapest way of doing so. This has left us with 18 operational coal fired power stations. The newest of these is 12 years old and the oldest is 47 years. Only four are less than 25 years old. Coal-fired power stations are designed for a life of around 40-50 years (although the average is 29 years) meaning that in the next two decades almost all are due to be retired.
Regardless of any environmental imperative, simple economics mean that retiring plants will not be replaced with new coal-fired power stations. In recent years the costs of producing electricity using renewable sources such as wind and solar have fallen faster than anyone expected, so that it is cheaper to use these for our energy needs than to build new coal-fired power stations. Moreover, the ability to store energy in batteries and hydro mean that with a properly enabled transmission and grid system electricity can be reliably supplied at all times (with smaller gas fired power generators possibly used as an interim back up/balancing measure). It is factors like these that saw PWC Australia conclude that:
A power generation mix dominated by renewables by 2040 can deliver reliable and affordable electricity, as well as drive an increase in Australia's economic welfare. Conversely, replacing retired coal-fuelled thermal plant with new High-Efficiency Low-Emissions (HELE) coal plants would result in a comparatively poorer economic outcome.

PWC, 2019, The Future of Energy p5
Short of governments providing subsidies or legislation that favour coal-fired electricity (and in so doing making electricity more expensive and increasing our emissions), there is no future for thermal coal fired power-stations in Australia beyond 2030-2040.
Australia's Export Market
Nor will there be a future for exporting coal. In a world in which action on climate change means renewables are growing as a proportion of global energy supply, demand for Australia's thermal and metallurgical coal will decline. For example, in 2018 the International Energy Agency projected the future of thermal coal under current policies of governments across the world, policies announced but not yet implemented, and a sustainable development scenario that limits warming to around 1.8 degrees. The sustainable development scenario sees coal fall to almost zero by 2040.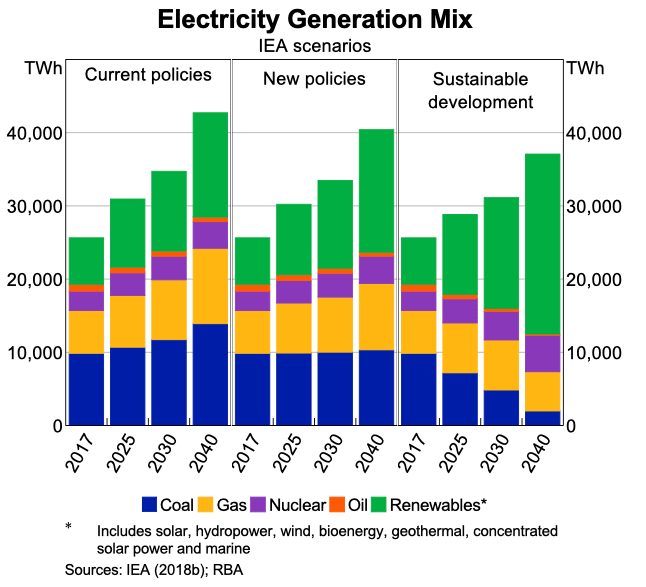 Whether it is in 2040, 2050 or some time thereafter that coal is jettisoned, it is only a matter of time. As China and the other buyers of Australian coal move to a renewables dominant energy system there will eventually be no-one left to buy our coal.
Back to Newcastle
Which brings me back to Newcastle. It is easy to imagine coal communities are filled with red-neck-climate-change-denialists willing to trade away the future of humanity for their short-term gain. Nothing could be further from the truth, at least in my experience of living in Newcastle. We have passionate anti-coal activists, vocal climate sceptics, and a wider population growing increasingly disturbed at the reality of climate change and the failure of the international community to address it. Newcastle Council has declared a climate emergency, is investing in clean energy systems, and will be using 100% renewable sources of energy from January 1, 2020. Lake Macquarie Council has been implementing adaptation plans for over a decade and has the most sophisticated waste disposal collection system in the nation. The Hunter Valley Research Association, CSIRO and the University all conduct research dedicated to building a sustainable future for Newcastle.
Ours is not a city with a culture set in stone but one that has experienced significant change. Soon after Sandy & I moved to Newcastle, BHP announced it was shutting down its steel operations. This was almost incomprehensible. BHP and the steelworks had a cherished place in the formation and life of the city. The announcement was met with a sense of impending doom. Yet as the future unfolded, the community soon realised that this company and industry was not the whole of our story. It was but one of many pieces that were in a constant state of flux. There was pain and displacement, but it was not the end. We survived the end of steel and flourished.
We will do the same with the end of coal. Urged on by politicians either too simple to recognise coal has no long-term future or so cynical they gladly pour oil onto an already toxic fossil fuel fire, some cling to the futile hope that we can go on mining and exporting Australia's vast reserves of coal forever. Most of us know this is a fantasy. We want a world in which our grandchildren can work, play and love without the ravages of catastrophic climate change and we know that means we must get ready for a post-coal future.
In a recent book2Superpower. Australia's Low Carbon Opportunity, Black Inc, 2019 eminent economist Ross Garnaut laid out a future for Australia as a green energy superpower, including a role for cities such as Newcastle to play. He shows that it not only possible for us to survive the end of coal but that we can thrive. Whether it is Garnaut's or another net-zero emissions future that prevails, for coal cities like Newcastle it will mean changes to our economy, our jobs, our lived environment, and our culture.
We stand a much better chance of building a post-coal future if we have visionary leadership, bold entrepreneurship, support for those emotionally, socially and economically dislocated, and a united approach to a way forward. These things are taking place at a local level in Newcastle, but they would benefit from strong national leadership. The transformations required in Newcastle and across Australia will grow locally but will be achieved with the least amount of pain and the greatest amount of benefit if they occur within the framework of a strong national policy.
It therefore frustrates and angers me that while Novocastrians, our local councils and even our State Government are getting behind a transition to a net-zero emissions future, the Prime Minister and the Government of Australia are bereft of the capacity to imagine this future with us and are failing miserably in providing the national leadership we need. We need to be making and implementing the transition plans now. Instead we have a government that is doing as little as possible to make the structural and systemic changes required. It offers feeble assurances we will reach our "Paris targets" yet manifestly fails to understand the intention of those targets.
Mr Morisson, we're ready to create a post-coal future and we're on our way, but "where the bloody hell are you."