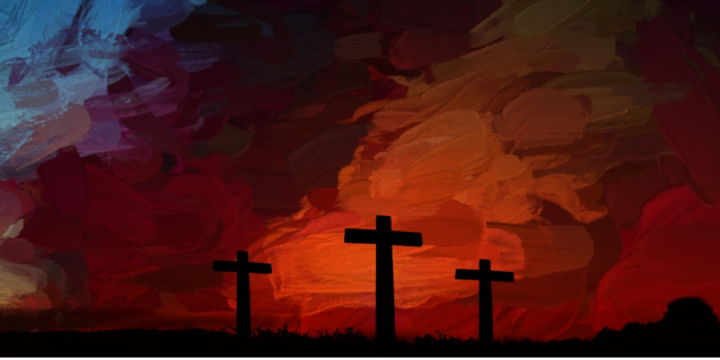 I wrote a blog piece earlier this week in which I suggested that the good news of the gospel cannot and should not be reduced to the declaration that Jesus died to pay the penalty for our sins. In the process I questioned whether the doctrine of penal substitutionary atonement (PSA), which is a fairly detailed elaboration of how it is Christ's death saves us from the consequences of sin, is in fact an accurate representation of the teaching of the New Testament. My piece was denounced by a few of my fellow Baptist pastors, who boldly declared that not only is PSA the correct way to interpret the New Testament statements about Christ's death, but that it constitutes the heart of the Christian gospel.
Really? Somebody had better tell that to the apostle Paul. Given he is the writer most closely associated with PSA, it would be reasonable to assume that if PSA is the heart of the gospel it would stand out boldly in his summaries of the gospel. Likewise, one might expect it would feature heavily in his evangelistic preaching. Now he discusses dimensions of the gospel right throughout his letters, but on three occasions he pauses to define the content of his gospel: in Romans 1, in 1 Corinthians 15, and in 2 Timothy 2. I have reproduced the texts below (NRSV translation). I also tracked down and include below the two sermons of Paul's that are recorded in the book of Acts.  Not a single one of Paul's gospel summaries nor his Acts sermons comes close to describing the gospel in terms of PSA. There's no discussion of propitiation or expiation, no mention of Christ bearing the wrath of God upon the cross, no elaboration of how it is that his death serves to save.
Did Paul understand that PSA is the mechanism by which God saves us? That's a debate for another day. Even if I for the moment grant that it is, surely Paul's own summaries of the gospel and his preaching of the gospel should relieve us of the notion that PSA is the heart of gospel.  For Paul the gospel seems to focus on the glorious news that God raised Jesus from the dead,  with a myriad of spin-off implications for us today. That we are deeply and truly loved.  That even the deepest pits of despair cannot extinguish the possibilities of hope.   That life has purpose and meaning.  That death, disease, violence, and all those things that plague our lives and our world are not the final word, That injustice will finally be overturned. And on and on it goes.
From Romans 1
Paul, a servant of Jesus Christ, called to be an apostle, set apart for the gospel of God, 2 which he promised beforehand through his prophets in the holy scriptures, 3 the gospel concerning his Son, who was descended from David according to the flesh 4 and was declared to be Son of God with power according to the spirit of holiness by resurrection from the dead, Jesus Christ our Lord, 5 through whom we have received grace and apostleship to bring about the obedience of faith among all the Gentiles for the sake of his name, 6 including yourselves who are called to belong to Jesus Christ.
From 1 Corinthians 15
Now I would remind you, brothers and sisters, of the good news that I proclaimed to you, which you in turn received, in which also you stand, 2 through which also you are being saved, if you hold firmly to the message that I proclaimed to you-unless you have come to believe in vain.

3 For I handed on to you as of first importance what I in turn had received: that Christ died for our sins in accordance with the scriptures, 4 and that he was buried, and that he was raised on the third day in accordance with the scriptures, 5 and that he appeared to Cephas, then to the twelve. 6 Then he appeared to more than five hundred brothers and sisters at one time, most of whom are still alive, though some have died. 7 Then he appeared to James, then to all the apostles. 8 Last of all, as to one untimely born, he appeared also to me.
From 2 Timothy 2
Remember Jesus Christ, raised from the dead, a descendant of David-that is my gospel, 9 for which I suffer hardship, even to the point of being chained like a criminal.
From Acts 13
So Paul stood up and with a gesture began to speak:
"You Israelites, and others who fear God, listen. 17 The God of this people Israel chose our ancestors and made the people great during their stay in the land of Egypt, and with uplifted arm he led them out of it. 18 For about forty years he put up with them in the wilderness. 19 After he had destroyed seven nations in the land of Canaan, he gave them their land as an inheritance 20 for about four hundred fifty years. After that he gave them judges until the time of the prophet Samuel. 21 Then they asked for a king; and God gave them Saul son of Kish, a man of the tribe of Benjamin, who reigned for forty years. 22 When he had removed him, he made David their king. In his testimony about him he said, 'I have found David, son of Jesse, to be a man after my heart, who will carry out all my wishes.' 23 Of this man's posterity God has brought to Israel a Savior, Jesus, as he promised; 24 before his coming John had already proclaimed a baptism of repentance to all the people of Israel. 25 And as John was finishing his work, he said, 'What do you suppose that I am? I am not he. No, but one is coming after me; I am not worthy to untie the thong of the sandals on his feet.'
26 "My brothers, you descendants of Abraham's family, and others who fear God, to us the message of this salvation has been sent. 27 Because the residents of Jerusalem and their leaders did not recognize him or understand the words of the prophets that are read every sabbath, they fulfilled those words by condemning him. 28 Even though they found no cause for a sentence of death, they asked Pilate to have him killed. 29 When they had carried out everything that was written about him, they took him down from the tree and laid him in a tomb. 30 But God raised him from the dead; 31 and for many days he appeared to those who came up with him from Galilee to Jerusalem, and they are now his witnesses to the people. 32 And we bring you the good news that what God promised to our ancestors 33 he has fulfilled for us, their children, by raising Jesus; as also it is written in the second psalm,
'You are my Son;
today I have begotten you.'
34 As to his raising him from the dead, no more to return to corruption, he has spoken in this way,
'I will give you the holy promises made to David.'
35 Therefore he has also said in another psalm,
'You will not let your Holy One experience corruption.'
36 For David, after he had served the purpose of God in his own generation, died,was laid beside his ancestors, and experienced corruption; 37 but he whom God raised up experienced no corruption. 38 Let it be known to you therefore, my brothers, that through this man forgiveness of sins is proclaimed to you; 39 by this Jesus everyone who believes is set free from all those sins from which you could not be freed by the law of Moses. 40 Beware, therefore, that what the prophets said does not happen to you:
41 'Look, you scoffers!
Be amazed and perish,
for in your days I am doing a work,
a work that you will never believe, even if someone tells you.'
From Acts 17
22 Then Paul stood in front of the Areopagus and said, "Athenians, I see how extremely religious you are in every way. 23 For as I went through the city and looked carefully at the objects of your worship, I found among them an altar with the inscription, 'To an unknown god.' What therefore you worship as unknown, this I proclaim to you. 24 The God who made the world and everything in it, he who is Lord of heaven and earth, does not live in shrines made by human hands, 25 nor is he served by human hands, as though he needed anything, since he himself gives to all mortals life and breath and all things. 26 From one ancestor he made all nations to inhabit the whole earth, and he allotted the times of their existence and the boundaries of the places where they would live, 27 so that they would search for God and perhaps grope for him and find him-though indeed he is not far from each one of us. 28 For 'In him we live and move and have our being'; as even some of your own poets have said,
'For we too are his offspring.'
29 Since we are God's offspring, we ought not to think that the deity is like gold, or silver, or stone, an image formed by the art and imagination of mortals. 30 While God has overlooked the times of human ignorance, now he commands all people everywhere to repent, 31 because he has fixed a day on which he will have the world judged in righteousness by a man whom he has appointed, and of this he has given assurance to all by raising him from the dead."